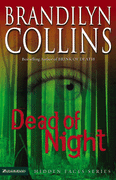 Dead of Night by Brandilyn Collins reviewed by Kelli Standish
Women are disappearing in a small California town. They're gone for days, maybe weeks. Then they reappear, as corpses, with something missing from their possession. Sometimes it's a piece of jewelry. Sometimes it's a finger or an ear. But they all have one thing in common: they died from poison-induced convulsions that strangled them.
In Dead of Night, book three of Brandilyn Collins' Hidden Faces Series, this outbreak of grisly murders has the citizens of Redding, California terrified, and forensic artist Annie Kingston in the middle of it all.
As the body count grows, Annie is tasked with the unpleasant job of sketching each murder victim so the images can be used in the search for the victims' identity. But when another woman is murdered, and her body found within yards of Annie's home, it seems the Poison Killer may be taunting Annie directly because of her involvement.
The darkness covering Annie's life intensifies when, in the midst of everything else, she surprises a dangerous intruder and has to drive him from her home at gunpoint. Soon after, Annie's rebellious teenage son, Stephen, is beat up because of his involvement in drug activities.
With nowhere else to turn for the safety of her son, Annie is forced to beg her ex-husband for help. She is struck another crushing blow as he refuses…again…this time because his new wife is pregnant.
All this happens in the first third of the book, and tensions escalate exponentially in subsequent pages.
Readers will be pleased to note that key players Chetterling, Dave, and Jenna are all back in full force in this story. Most unnerving are the journal-like entries from the killer's perspective. This complex, cunning murderer's fascination with "pretty baubles" will have you thinking twice about buying anything from your local jeweler!
Though the story is quite dark, the power of prayer, and its crucial place in our lives, is sketched as clearly as Annie's drawings throughout the pages. Collins says of this story, "Dead of Night is intense suspense. Through that very intensity and darkness, this story portrays the victorious power of prayer like no other book I've written."
In my opinion, Dead of Night not only portrays the power of prayer like no other book Brandilyn Collins has written. It also displays Annie Kingston's growing personal strength in a way that makes her more likeable, more interesting, and the kind of a character I could truly cheer for. And this story offers the most shocking, unexpected, fabulous villain you're likely to meet in a suspense book this year.
Collins has written an honest-to-goodness spine crawler with Dead of Night. A definite must read.
Click here to buy Dead of Night by Brandilyn Collins