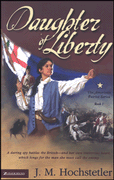 Daughter of Liberty by J.M. Hochstetler reviewed by Diana Urban
"The crack of the pistol's report came from directly behind the courier. Sizzling past so close to his ear he could feel the heat of it."
With these words, and the impact of a rebel fieldpiece, J. M. Hochstetler's Daughter of Liberty bursts onto the historical fiction scene.
Twenty-year-old Bostonian Elizabeth Howard sympathizes with the patriots' struggle for freedom from English oppression. Her convictions set her at odds with her parents' pro-British sympathies, and force her to live a life of lies and deception. By day she is a debutante, by night she is a spy.
Ruggedly handsome Jonathan Carleton was born in England, but is now a wealthy Virginian landowner. He's committed to serving his country, but to which does he owe his allegiance? As a member of the British regulars he stands for everything Elizabeth despises.
From the moment these two meet, their attraction is fiery and dangerous, and neither Jonathan nor Elizabeth suspects the other's true allegiance. Are they destined to remain enemies forever?
Add to this conflict a villain out to get both the hero and heroine, and a final plot twist that will delight fans of the Jane Seymore version of The Scarlet Pimpernel, and you've got a truly interesting read.
The Revolutionary War makes a great setting for the realistic plot and action Hochstetler incorporates. Fans of American history will appreciate this novel as a painless way to learn more about the lives of such famous historical figures as General Thomas Gage, General John Pitcairn, Paul Revere, and Dr. Joseph Warren.
Although I am a fan of historical fiction, I was a little overwhelmed with the depth of history included in this book. The emotion of "disgust" was also used too frequently in the prose for my taste. However, the plot, the lively dialogue, and the character interaction—especially the romantic development—are fabulous, so don't let the historical details stop you.
Stay tuned next month for a review of Native Son, Hochstetler's second book in the American Patriot series.
Click here to buy Daughter of Liberty by J.M. Hochstetler