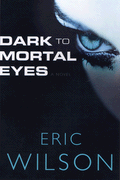 Dark to Mortal Eyes by Eric Wilson reviewed by Venessa Ng
A game of Chance. A game of Skill. A game of High Stakes.
Chess. A game masterfully played out and used as an intriguing backdrop to this extraordinary novel.
Twenty-two year old Josee Walker wants to meet the parents that gave her up for adoption at birth. She arranges to meet with her birth mother, Kara Addison, but before the meeting can take place Kara goes missing. Suspicion is cast upon Kara's husband, and Josee's reluctant birth father, Marsh Addison.
Josee is suddenly plunged into a game for which she is ill prepared.
As the novel twists and turns, no one is as they first appear. Secrets are uncovered, history unburied and the future doubtful. A bitter woman goes to extraordinary lengths to exact revenge, using, and then casting aside, any willing soul.
To be honest, I found this book very hard to initially get into. Because of that, it took me longer to read than any other novel, and I had to take breaks and read other books. Being a late night reader I prefer clear and concise writing. I found Eric Wilson's style baffling at times, and I had to re-read several passages for my mind to come to grips with what the author was trying to say. However, I was determined to finish the book, I owed the author that much, and I'm glad I did. By the time I was half way through I was accustomed to Wilson's style and truly hooked. I could no longer put the book down. It was a race to the finish. But for me, it didn't stop when I turned the last page. I kept reflecting on the theme for days after I put the book down. Eric Wilson is one of those rare finds ... an author that will entertain and enlighten.
Dark to Mortal Eyes is a well-crafted novel with enough twists to keep the reader guessing throughout. Go grab yourself a copy and enter a supernatural tale of suspense.
Click here to buy Dark to Mortal Eyes by Eric Wilson