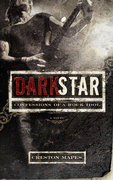 Dark Star: Confessions of a Rock Idol by Creston Mapes reviewed by Vennessa Ng
Imagine if you will, a heavily tattooed rock star with long hair and a metal ring in his nose. Intoxicated on drugs and alcohol, he leads a frenzied crowd as heavy metal grinds and screams in waves around them. He also refutes the existence of God, and tells the multitudes there is no heaven or hell, simply the Other Side.
You've just pictured Everett Lester, lead singer of DeathStroke, and the main character of Dark Star.
Would you spend your life praying for this man? Would you regularly take the time to send him gifts and write to him about God's love and Christ's redeeming grace?
Karen Bayliss does. Karen realizes the danger Everett places himself and thousands of his devoted fans in.
But Karen isn't the only one trying to influence Everett's life. Endora Crystal is also battling for his soul. As Everett's personal psychic, Endora leads him deeper into the occult and tells him everything he longs to hear: his fans love him; he is their leader, their savior. It is his destiny to lead them to the Other Side.
The spiritual battle over Everett's soul comes to a climax when Endora is found dead and Everett is charged with first-degree murder.
Written memoir style, Creston Mapes's debut novel pulls readers into a two-fold story. The first leads us through a present day courtroom battle—worthy of any John Grisham novel—while the second takes us back in time, providing glimpses of Everett's life leading up to his trial.
The only minor stumbling block for me was that Everett's language seemed unrealistic. I expected a drug addicted rocker like him to sound a bit rougher than an Oxford Dean. Other than that, this book was a riveting read from start to finish.
Dark Star continued to invade my thoughts long after I turned the last page. Its characters remained in my mind, challenging me to reflect on the power of intercessory prayer and the spiritual battle continually fought over each of our souls. Included at the back of the book is a set of discussion questions that deepen your understanding of the book's themes of sin and redemption, and God's unconditional love.
It's not often you come across such a powerful book by a first-time novelist. Creston Mapes is a rare find, an author to keep your eye on.
Click here to buy Dark Star by Creston Mapes