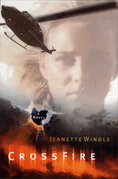 Crossfire by Jeanette Windle reviewed by Kelli Standish
It is no coincidence that reviewers of this book on Amazon.com give it a five star rating.
After reading literally thousands of fiction books, it is fair to say I am tough to impress. But Jeanette Windle has done so, and done so with a style and flair that assures Crossfire a permanent place in my library and on my highest recommendations list. Her research is impeccable. Her characters believable. Her plot and subplots faultless.
Your journey begins the moment you open the first page. Suddenly, you're surrounded by the cries of foreign birds, angry men and a endearing heroine. Each page draws you further into the tension and the complexity that is the South American drug trade. And then you begin to understand. Not just one side, but all side's emotions as they face off over the age-old moral question: Am I my brother's keeper?
And the hours Windle must have put into the creation of this 600 page masterpiece! It boggles the mind.
After finishing Crossfire, I have only one regret. Despite its length this book was over too soon! I was so delighted with the ending that I re-read it three times. Rarely have I seen a writer end a book in such a powerful, absolutely satisfying manner.
Crossfire is, without question, a must read.
Click here to buy Crossfire by Jeanette Windle