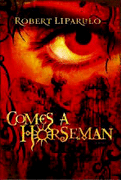 Comes a Horseman by Robert Liparulo reviewed by Sara Mills and Kelli Standish
FBI Special Agent and Criminal Psychologist Brady Morgan is caught up in the most complex and horrifying case of his career. Gruesome murders without pattern or sense are occurring all over the United States.
Brady and his partner Alicia Wagner follow the killer's trail around the country, but are unable to decode the passionless crimes or the ritualistic clues left behind after each slaughter.
What is the connection between the victims? What is the meaning of the dog hair found at each location and the dime-sized Norse sunwheel branded into the bodies?
In their search for answers, Brady and Alicia bring in a specialized CSD—an ultra-modern, computerized recording and analysis suit—which Alicia wears to create detailed 3-d maps of the crime scenes. But even Alicia's supercomputer cannot explain the bizarre clues.
In the meantime, the methodic serial killer couldn't have arrived at a worse time for Brady. His life and career in the FBI are hanging by a thread after the hit-and-run death of his wife, and his young son, Zack is the only thing preventing him from plunging into the abyss of alcohol therapy. The last thing he needs is a case that requires more than 9-5 hours and auto-pilot investigating.
Then he and Alicia stumble on an obscure lead- one that exposes an age-old conspiracy extending from the United States to the Vatican to Jerusalem to Canada's Northwest Territories. Suddenly, they are no longer the hunters. They are the hunted.
Their ensuing battle for survival and truth kept us guessing until the very last page.
This debut novel by Robert Liparulo is one-of-a-kind in the Christian market and a thriller in the truest sense of the word. People who get queasy at the sight of a rare steak may find a number of the scenes in this book too gory to handle. But for those who love thrillers, this novel is like bungee jumping in the dark. It's a free fall into the unknown with a strong cable of grace that yanks you back to safety just in time.
We're excited to welcome Liparulo as the first inductee into the Thriller section of our local Christian bookstores and we will eagerly watch the theaters for Comes a Horseman, which is soon to be released as a major motion picture.
Click here to buy Comes a Horseman by Robert Liparulo