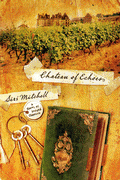 Chateau of Echoes by Siri Mitchell reviewed by Mick Silva
If you ignore life long enough, will it go away?
American Frederique Farmer hopes so. The recent death of her unbelieving husband has cloaked her heart in guilt. She hopes hiding out in her historical French castle, preparing herself gourmet cuisine, and accepting only the occasional tourist request for her incomparable room and board will ease her pain.
Then American author/playboy-turned-Christian Robert Cranwell calls, asking permission to come research Alix de Montot, the famous comtesse whose medieval diary was recently discovered on Frederique's castle's grounds.
New novel or no, Frederique is prepared to turn Robert down. But somewhere between "Not a chance" and "Take a hike," she gives in.
Robert arrives, and Frederique finds that he isn't as bad as his reputation, though he is annoyingly interested in beautiful grad student Severine and her knowledge of the comtesse's legendary story.
As parallel romantic triangles begin to blossom, Chateau of Echoes stirs up many questions. Doesn't Frederique realize that everything she's fighting off will find her? Does she really hope to bury her regret forever? And how will God's haunting presence cross space and time to provide exactly what she needs?
Many things make this book a top priority for discerning readers. The descriptions of Frederique's culinary creations will have you raiding your cupboards. I'd never eaten as well as I did in this book.
I'd also never appreciated such variety of clothing, the look and heft of fabrics, period furniture, or the color of sun in hair.
The author's considerable talent of observation is on fine display here. Clearly she senses the everyday wonder in the corporeal, and the strange significance of common beauty. Here is an author who wants her readers, like her characters, to experience life to its fullest.
There are a few flaws, intrusions, and misdirections in Chateau of Echoes. Some aspects of the book seem in need of a stronger edit, and some deeper hints of personality were never unearthed. Still, Siri Mitchell has been called one of the freshest new voices in Christian fiction, and for good reason.
I am convinced that this author's future is bright, and that her achingly real characters will continue to emerge from the echoes, revealing and breathing reality into our lives.
Click here to buy Chateau of Echoes by Siri Mitchell