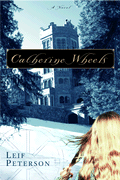 Catherine Wheels by Leif Peterson reviewed by Mick Silva
Imagine, hidden within the wall of an ancient convent, a prayer wheel once used to send prayers to the nuns to bring before God. It's the intriguing and fitting metaphor at the center of this story of hope in the midst of life's inescapable tragedies.
Like the strands of an old rope, Thomas's life has unraveled. At every turn, he finds only more pain. When he receives news that his older brother, an Episcopal priest, has killed himself, it seems nothing will ever be right again.
But from the moment a mysterious nine-year-old girl enters Thomas's life, her spiritual insight begins to work miracles.
Readers, I must warn you: if you'll sit with Catherine awhile, she might challenge you to your very core. But if you've ever hurt for someone you cannot help, ever struggled with doubt in the face of God's seeming coldness, ever borrowed the grace of others in a time of deep loss, you may just find something life-changing in this story.
Ultimately, this is a tale of the sometimes agonizingly slow process of redemption. Peterson offers no formula, no familiar landmarks for navigation. There is no clear answer to the great conflict waged at the center of life. Yet I defy the contemplative reader not to be compelled.
The ever-present shadow of deep beauty makes this book irresistible: you want to savor it, to read it slowly and make it last. The force that keeps you turning the pages is not so much what's going to happen next, but what this now is going to feel like.
The understated awakenings in Peterson's characters, and his incisive observations about their souls, are startling. While reading, I was Thomas passing through "an unnamable threshold—divided into before and after."
Catherine Wheels gives the sense that no philosophy can answer our deepest questions better than a story. And I, for one, am richer for the reminder.
Click here to buy Catherine Wheels by Leif Peterson