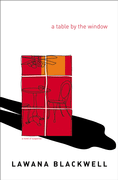 A Table by the Window by Lawana Blackwell reviewed by Sara Mills and Kelli Standish
Readers of Lawana Blackwell's historical fiction are in for a pleasant new experience with this contemporary story.
When her students' plagiarism is ignored by the principal of the exclusive Emerson-Wake Preparatory school, Carley Reed chooses to resign as a matter of integrity.
To be suddenly jobless and still alone at twenty-five is not the happiest experience for Carley, but a lifetime of abuse, multiple stepfathers, and a stint in a group home have given her a take-a-licking-and-keep-on-ticking outlook.
Then a private investigator knocks on her San Francisco apartment door, and tells her that Cordelia Walker, the estranged grandmother Carley barely remembers, has died and included Carley in her will.
Carley decides to go to Tallulah, Mississippi where her grandmother lived, to handle the details of the estate sale herself, and to connect with her memories of the woman she hadn't seen since she was a toddler.
On the surface, the sleepy, southern town is idyllic. Family members Carley didn't know existed welcome her with (mostly) open arms, neighbors bake her welcome casseroles, and she is charmed by the small town atmosphere and the two handsome, local men who show her interest.
But there is more going on than meets the eye. And when Carley decides to use her inheritance money to open a café in Tallulah, she finds herself caught up in the town's unsolved mysteries.
First there's the never-cracked case of the hit and run accident that killed a beloved wife and mother, then there's the disappearance of a lumber worker and his girlfriend.
The son of Carley's rash, unpredictable brother-in-law leads her to believe the missing worker and his sweetheart are buried in the concrete foundation of Carley's new café. But is he telling the truth? Or trying to scare her off so his father can gain her inheritance?
When Carley reaches out Brooke Kimball, the spike-haired, pierced, teenage daughter of the local ner'do well, she realizes even Brooke knows things she's not telling. Things that could get them both killed.
Blackwell's charming tale, told in the slow, easy cadence of a southern summer afternoon, provides readers with an interesting plot—watch for the significance of the book's title about two-thirds of the way through—and lovable characters. Readers will find Carley, Neal Henderson, a mentally-challenged store clerk, and the misunderstood Brooke especially endearing.
Blackwell also treats us to an usual glimpse into the rationalization of sin in the mind of a killer. This is the kind of bad guy you could meet (and perhaps have met) in your local grocery store!
And speaking of grocery store, if you aren't hungry before you read this story, you will be by its conclusion. Within the book's pages, you're treated to a feast of the senses with descriptions of southern delicacies like hush puppies, catfish, and black-eyed peas with bacon and okra.
A great story to enjoy from your porch swing this summer.
Click here to buy A Table by the Window by Lawana Blackwell