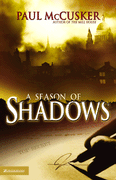 A Season of Shadows by Paul McCusker reviewed by Kelli Standish
World War II may be gaining momentum in Europe, but in the Georgetown area of Washington, DC, Stewart Harris and his young wife Julie are the newsmakers.
The son of a senator, Stewart is the toast of the jet-set crowd, and always good for one more party or visit to the downtown clubs. Julie, though uncomfortable with some of her husband's choices, is devoted to him and pleased to act as the perfect hostess in their stylish colonial-style home.
Then tragedy strikes and Stewart is killed in a suspicious automobile accident. Worse, a woman dies in the passenger seat of Stewart's car; a woman who, unbeknownst to Julie, spent a great deal of time with Julie's husband prior to his death.
At first, Julie refuses to believe what her father, brother, friends, and even a local newspaper article claim. Stewart would never have cheated on her! But when multiple copies of a mysterious group photo appear and a family member commits suicide over them, Julie realizes her husband was not the man she once believed him to be.
After Stewart's funeral, a friend offers Julie the chance to investigate her husband's behavior and escape the swirling cloud of gossip that surrounds her in Georgetown. Julie jumps at the opportunity, and is soon winging her way across the Atlantic to take a position at the American Embassy in London.
But even an ocean cannot separate Julie from the grief of her husband's death and betrayal. And as she searches the narrowed streets of Europe for the reasons behind her husband's actions, deadly treachery awaits her.
In A Season of Shadows, Paul McCusker, (who also produces the popular Adventures in Odyssey radio series), offers a fresh perspective on a time period that is appearing with great frequency in today's Christian fiction. Using World War II as a backdrop rather than the primary focus of the story, McCusker presents Julie's journey of faith and discovery in a believable and intriguing way.
Life rarely offers us the solution to our problems in a neatly tied package, and McCusker resists the temptation to do so for Julie or the other characters in this book. Instead, the ending of the story offers an unexpected twist and a thoughtful resolution that I found very satisfying.
The story's ending also provides enough questions for at least one sequel, and I'm sure McCusker fans everywhere join me in the hope that this is just the beginning for Julie, Father John, and the rest of the characters found in A Season of Shadows.
Click here to buy A Season of Shadows by Paul McCusker