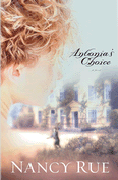 Antoniaís Choice by Nancy Rue reviewed by Diana Urban
Imagine that your sister and her husband molested and photographed your five-year-old son repeatedly. Step into the world of Toni Wells.
After Toniís husband, Chris, has an adulterous affair with his legal aide, Toni moves from Virginia to Nashville to build a new life for herself and her son, Ben. Hoping Benís screaming fits and night terrors will subside after the move, Toni works hard to establish herself in a new financial firm and again excels at being a career woman.
When Benís problems worsen, Toniís patience is at an end. Unaware that anything has happened to Ben, she believes his problems stem from her separation from his father. Sure that things will work out in time, Toni turns her attention to helping her mother and sister.
When Toniís sister and her husband are arrested for child molesting and pornography, Toniís mother insists the charges are false. She demands that Toni support her sister, and Toni offers to take in her sisterís daughter, Wyndham. Upon Wyndhamís arrival at the airport, Ben falls to the floor screaming and refuses to be consoled.
Deep in denial, Toni refuses to accept the horror of what has happened to Ben and Wyndham until circumstances force the truth on her. At that point, she must make the most difficult choices of her lifeóHobsonís choices.
But through excellent counseling, Toni, Ben, and Wyndham make progress toward healing, and begin to overcome the guilt, pain, and grief.
Antoniaís Choice is one of the best contemporary fiction books Iíve ever read. Author Nancy Rue presents the horrifying subject matter with tenderness and sensitivity, never making it too graphic, yet clearly portraying what thousands of children experience daily. Through it all, she weaves a deft spiritual thread that shows how God can help us overcome such tragedy. The counseling presented offers a ray of hope to those who have suffered sexual abuse, and makes it clear that people can heal from such horror.
Additionally, Rueís command of the craft of fiction is outstanding. Her characters and dialogue are well developed and believable. The descriptions, plot, and pacing carry readers along effortlessly. The conflict compels readers to flip the pages. Rue reminds us that good writing craft is not limited to the secular world.
If you have not experienced abuse, statistics show you probably know someone who has. Antoniaís Choice is a must readófor everyone.
Click here to buy Antoniaís Choice by Nancy Rue