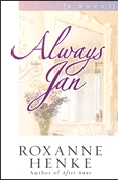 Always Jan by Roxanne Henke reviewed by Laura Domino
We're always changing, always aging, whether we like it or not. Jan Jordan doesn't like it, not one little bit.
Jan's pathological aversion to aging leaves her looking in the mirror too often, tugging at her skin, trying to see her younger, more beautiful self again. Her hometown, Brewster, North Dakota, is small and far from Hollywood, but that doesn't stop Jan from dreaming of plastic surgery and face-lifts.
Brewster's Kenny Pearson, owner of Kenny's SuperPumper Station, doesn't have problems with aging, or anything else –at first glance. His wife, Diane, does the books at his station and takes care of the kids. All Kenny has to worry about is gabbing with the guys who come by the station, and helping his softball team win games.
Unless, of course, his 82-year-old Aunt Ida needs help with her dreaded home maintenance chores. But he can put those off. It's not like they're life threatening.
And then there's the trouble he has with not staring; at least when hometown knockout Jan Jordan is around. Sure she's married, and so is he, but a guy can still look, can't he?
In this fourth book of Henke's Coming Home to Brewster series, the people of Brewster find their love rekindled for family and friends, and their hearts opening to the whispers of God's grace. Jan Jordan fights and then welcomes change into her life. And Kenny learns a lesson in what is truly valuable. Each member of the small-town cast adds their own flavor to the stories of Jan, Kenny and their families.
Two-thirds of the way through the book, I made a guess at how this book was going to end. My joy was not in being right, but in watching it being played out so beautifully. I couldn't take my watery eyes off the pages.
Honestly, I have to complain that there's no big red sticker on the front cover warning "You may be personally affected by this book." I started reading, and before too long I realized that I, a (shh, don't tell) 40-something reviewer, was reading a book about aging gracefully. No fair! Not funny! Okay, maybe it was a God thing. But still...
The message I received was that God fully intends to help us see who we were designed to be and who we can become. I loved it.
Jan never imagined her life could change so much...and still she remained Always Jan.
Click here to buy Always Jan by Roxanne Henke