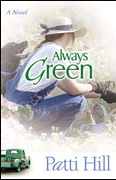 Always Green by Patti Hill reviewed by Vennessa Ng
All widow Mibby Garrett desires is a storm-free life. But in this second title of Patti Hill's Garden Gates series, she finds herself surrounded by them: storms in her relationship with her teenage son, storms around her garden design business, and storms in her search for love a second time around.
Chief among these storms is Mibby's new status as a single mother. Her teenage son Ky's growing obsession with macabre computer games and quick sarcastic responses call for desperate action, and Mibby arms herself for a battle of wills. With bedtime reading like, You Only Think You Remember What It's Like To Be A Teenager, Boys Will Be Men: A Mothers Guide To The Teen Years, and Fly Your Teenager to Maturity, she'll be well prepared, right?
Her son isn't the only storm disrupting her life. The long, hot Colorado summer scorches the ground and threatens her garden design business. Clients drop her services as plants wither under high temperatures, new management at the garden supply store disrupts her purchase of much needed plants, and a looming deadline for a design contest really turns up the heat.
Then there's the romance storm. Good intentioned friends push Mibby back into dating, with less than desirable results. First she meets the cowboy looking for a woman "with good teeth, a strong back, and one who don't complain much." The next candidate's idea of dating comes from his sitcom viewing; first dinner, then … well, not if Mibby can help it. And the Sweet Suzy delivery man who also sews Barbie clothes? He's just plain aggravating.
As Mibby wilts under the heat of all her troubles, her colorful, and often off-beat friends, remind her to put her trust in God and lean on Him through the rough patches. Mibby learns that when storms beat her down, remaining faithful and placing her trust in God will help her flourish again.
Patti Hill has proven she is a master of the written word in this humorous and heart-warming story. Always Green flows effortlessly, and Hill weaves characters, plot, and description into a vibrant written canvas. Each chapter opens with a delightful diary excerpt to draw us into Mibby's world of all things garden. The only let down in this otherwise well-written novel was the glaring timeline errors throughout the story.
Although I hadn't read Like A Watered Garden, the first book in the Garden Gates series, I easily followed the storyline in this sequel. Always Green is a wonderful standalone read, and will leave you wishing for a whole field of Patti Hill stories!
This review used in conjunction with Infuze Magazine, http://www.infuzemag.com
Click here to buy Always Green by Patti Hill